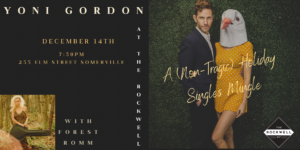 The Rockwell is thrilled to present a most-decidedly non-tragic Singles Mingle this holiday season, brought to you by musician Yoni Gordon…now with support from Forest Romm!
SINGLES MINGLE FAQ
1) Do you have to be single to go to this show? Psshhh…no way. Can you imagine if we had to plan our lives around that constantly moving target? Come as you are.
2) How will people know whether you are there to mingle or not? Our super-simple, super-subtle "green dot" system lets others know what you're down for. The best part? You can change it at any time!
3) Will there be any games/prizes? Back by popular demand… Dating Disaster Bingo! A game that is just as cringe as it sounds. Prizes may include a subscription to the dating app of your choice…because we like to reward cringe with cringe, obviously.
Listen to Yoni's latest album, Courtship.
And check out tracks from Forest Romm on Spotify and Bandcamp.
*****
Doors at 7:00pm
Show at 7:30pm
Ticketing: General Admission | $20 in advance; $25 day of show | 21+ PROPER ID REQUIRED
Accessibility: The Rockwell is wheelchair accessible.