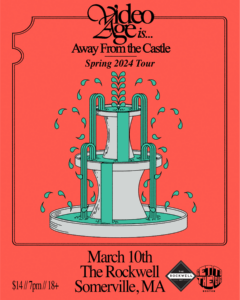 Video Age make breezy and timeless songs that are so ineffable, they can only be the result of a decades-long friendship and songwriting partnership. Across four albums, Ross Farbe and Ray Micarelli have gleefully worn their influences on their sleeve, writing inviting tunes that reference sounds ranging from disco to pop and indie rock. On their latest LP, Away From The Castle, the New Orleans duo have strayed from nostalgia and instead have honed their own unique musicality, making songs that sound like themselves with a taste of inspiration from classic singer-songwriters of the 60s and 70s. The album is a testament to the possibilities that come from getting out of your comfort zone, the freedom of writing vulnerably and unselfconsciously, and the joys of getting to work with your closest companions.
After releasing and eventually touring their critically-acclaimed third album Pleasure Line in 2020, Farbe and Micarelli sought inspiration for their next project through collaboration. They worked with Drugdealer on his album Hiding In Plain Sight, Micarelli gigged throughout New Orleans' jazz and blues scenes, and Farbe recorded local artists at his home studio, most recently producing Esther Rose's new album Safe to Run. Feeling refreshed, they rented a cabin in Eunice, Louisiana with touring members Nick Corson and Duncan Troast, where they spent eight days in August 2022 jamming, cooking and writing together.
Through this process, Video Age have made their best collection of tracks to date by perfectly alchemizing their influences and experiences into a record still tinged with nostalgia, but moving towards a more succinct and authentic voice. Away From The Castle is a document of a band having fun and rediscovering their love for making music together, but it's also their most honest and personal work yet–Video Age distilled to its purest form.
*****
Doors at 7:00pm
Show at 8:00pm
Ticketing: General Admission | $14 in advance; $17 day of show | 18+ PROPER ID REQUIRED
Accessibility: The Rockwell is wheelchair accessible.